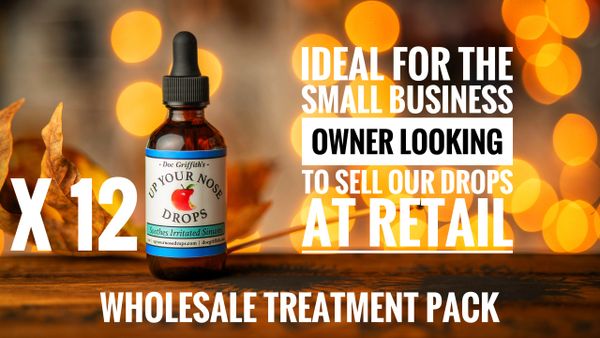 Sinus Wholesale Pack
Tried Other Treatments for Sinus Congestion? Still Suffering from Sinus Headaches? Give Our Nose Drops a Try!


UP YOUR NOSE DROPS ARE A REFRESHINGLY STRONG FORMULATION DESIGNED TO SUPPORT OPTIMAL SINUS HEALTH. THE INVIGORATING SENSATION THAT YOU WILL NOTICE UPON FIRST USING THEM IS NORMAL AND KEY TO THE HEALING PROCESS.


EACH 2 OUNCE BOTTLE CONTAINS:
ORGANIC ICELANDIC MOSS EXTRACT
ORGANIC ESSENTIAL OILS OF CHAMOMILE, CORIANDER, CAJEPUT AND PINE NEEDLE
  *CONTAINS IODINE