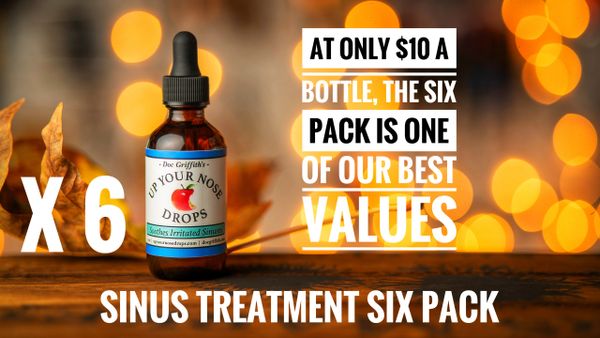 Sinus Six Pack
Tired of Sinus Nasal Sprays Not Working? Give Up Your Nose Drops a Try! 
At only $10 for a 2 ounce bottle, the Sinus Treatment Six Pack is one of our best values. Order the six pack of Up Your Nose Drops and you'll always have a bottle on hand!
Up Your Nose Drops are a great gift for your loved ones that suffer from:

Sinus congestion

Sinus infection

Sinus headaches

Irritated sinuses

Congestion from allergies
Our nasal drops are made from only the finest ingredients available. Each 2 ounce bottle contains:



Filtered water

Organic Icelandic moss extract

Sea salt

MSM

Phenolated  iodine

Organic essential oils of chamomile, coriander, cajeput and pine needle
Each bottle of Up Your Nose Drops is made with a powerful, non-drying and non-addictive formula. 
A single bottle of our nose drops will last a person with sinusitis approximately a month or two.