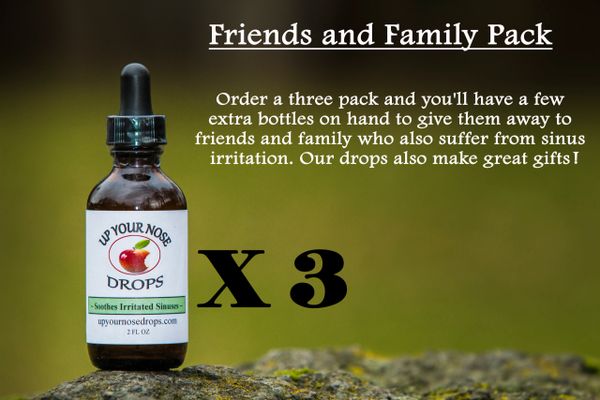 Friends and Family Pack
Tired of Ineffective Nasal Spray Decongestants and Other Sinus Remedies? Give Up Your Nose Drops a Try!

Order a three pack and you'll have a few extra bottles on hand to give them away to friends and family who also suffer from sinus irritation. Our nose drops also make great gifts! Up Your Nose Drops are perfect for:

Irritated sinuses from colds and allergies

Sinus inflammation


Chronic nasal congestion

Restoring your ability to smell

Sinus headaches
Our nasal drops are made from only the finest ingredients available. Each 2 ounce bottle contains:
Filtered water

Sea salt

Organic Icelandic moss extract

MSM

Phenolated iodine

Organic essential oils of chamomile, coriander, cajeput and pine needle
  *Contains iodine
Each bottle of our potent all natural nose drops will last an individual with sinusitis about two to three months. 
Protect your family, share a bottle with a friend, or take care of yourself for almost an entire year!