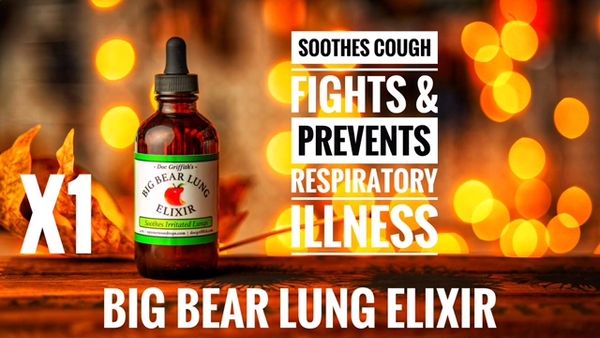 Lung Personal Pack
Tired of Having a Cough or Tickle in Your Throat? Perhaps You are Trying to Avoid or Fight Respiratory Illness? Give our oral Big Bear Lung Elixir a Try!


Big Bear Lung Elixir is an oral herbal formulation designed to support optimal respiratory health. Each 4 ounce bottle contains eleven carefully selected herbal extracts made from the finest organic ingredients available.
Big Bear Lung Elixir is perfect for:
Prevention and relief of respiratory illness
Calming cough
Soothing irritated lungs 
Promotion of healthy immune system function
Killing germs that cause respiratory infection
Our Lung Elixir is made from finest organic ingredients available. Each 4 ounce bottle contains:
Osha
Elderberry Syrup
Jamaican Dogwood
Wild Indigo
Licorice
Lomatium
Peppermint
Propolis
Cramp Bark
Ginger 
Old Man's Beard
Big Bear Lung Elixir is easy to use! Simply drop 1-2 droppers full on to the back of your tongue/throat area to soothe cough, and to help fight and prevent a respiratory illness or infection. 

A single 4 ounce bottle of Big Bear Lung Elixir will last a person approximately 1-3 months.  A little  goes a long way!
Our lung elixir formula is refreshingly strong tasting (never watered down) and you will instantly feel its magical formula working to fight cough and respiratory illness.
We are proud to offer Big Bear Lung Elixir to our loyal Up Your Nose Drops customers. Please send us a message if you have any questions about its use or if you would like to place a wholesale order of 12 or more bottles. 
*Does not contain artificial flavors or colors, preservatives, fillers, or added sweeteners. Big Bear Lung Elixir never expires.